From Newman Architects:"The new Slover Library in Norfolk, Virginia — designed by Newman Architects – has won a 2015 AIA/ALA Building Award. The American Institute of Architects and the American Library Association developed this award to encourage and recognize excellence in the architectural design of libraries. The AIA/ALA Building Awards recognize innovative design as leading to the library's resurgence as a community hub.""Slover Library was conceived as the anchor of a new downtown district in Norfolk. A combined public and private endeavor, the $65 million building was made possible by a $40 million gift from Frank and Jane Batten and a $21 million contribution from the City. The project led to the creation of the Slover Foundation, which contributed an additional $4 million to the initial construction."
Bloomerstudio designed and fabricated the metal ornament for the Forum facade, and ceiling, the ornament-sculpture for the Loggia Terrace trellis, and the frieze for the Children's Room.
http://www.aia.org/practicing/awards/2015/library-awards/slover-library/
Metal fabricators we worked with:
Incodema of Ithaca, NY – leaf stamping, Forum ceiling
Welding Works of Madison, CT – welding, Forum ceiling
Promoco Manufacturing Co of West Haven, CT – welding, Loggia Terrace trellis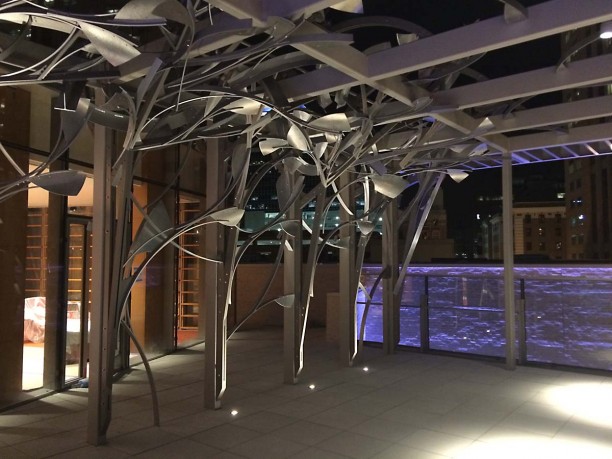 (photo By Michael Scott)
Thanks to JR Christoni Trucking of Walingford, CT, for handling the complex transportation  of this very large project.