Kent Bloomer Biography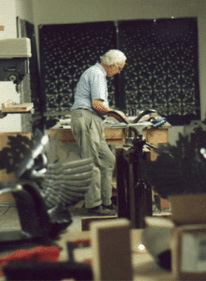 Kent Bloomer is the principal and founder of the Bloomer Studio, and has served as its chief designer since 1965. He is also a Professor of Architecture at Yale University. Bloomer has taught at Yale since 1966. He was an instructor at the Carnegie Mellon Institute of Technology from 1961 to 1966. In addition to his permanent teaching positions, Mr. Bloomer has lectured and served as a visiting critic at many universities, including UT-Austin, Harvard, McGill, and Columbia. He has also spoken to audiences at the British Psychoanalytic Society, the Portland Museum of Art, the Graham Foundation in Chicago, the London Architectural Association, and the American Craft Museum in New York City.
Bloomer's sculpture has been exhibited by numerous museums and galleries, including the Museum of Modern Art in New York City, the Los Angeles County Museum of Art in California, the Wadsworth Athenaeum in Hartford, Connecticut, and the Carnegie Museum of Art in Pittsburgh. His work is included in the permanent collections of the Hirshhorn Gallery, Smithsonian Institution in Washington, D.C., the Yale University Art Gallery in New Haven, and the Carnegie Museum of Art in Pittsburgh. His large-scale projects have won statewide and national awards from the American Institute of Architects. Mr. Bloomer's most prominent projects include the Forum ornament at Slover Memorial Library, Norfolk, VA (architect: Newman Architects), a foliated trellis for the Ronald Reagan National Airport, Washington, D.C. (architect: Cesar Pelli & Associates), large roof sculptures on the Harold Washington Library, Chicago (architect: Hammond, Beeby and Babka), the aluminum horse, wings, and trellis for The Great Platte River Road Archway Monument, Kearney, Nebraska (architect: Peter Dominick, Urban Design Group), and exterior metal panels for the Nashville Public Library (architect: Robert A.M. Stern).
Kent Bloomer is the principal author (with Charles W. Moore) of Body, Memory, and Architecture, published by Yale University Press in 1977. His most recent book, The Nature of Ornament, was published by W.W. Norton in the fall of 2000. Mr. Bloomer has also published articles in Perspecta, Architecture d'Aujourdhui, and Places. He has contributed chapters to monographs of architects Charles Moore and Turner Brooks, and he wrote the introduction to a new edition of John Summerson's Heavenly Mansions, published by W.W. Norton.
Mr. Bloomer studied physics and architecture at Massachusetts Institute of Technology. He then went on to study sculpture at Yale University (BFA, 1959, MFA, 1961).
Mr. Bloomer was born in Mt. Vernon, New York and lives in Guilford, Connecticut with his wife, Nona.